01.02.2019 | von Susanne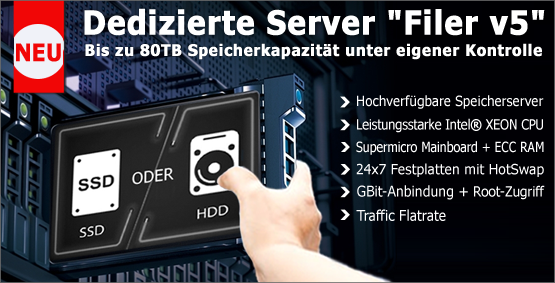 Schon gesehen? Wir sind mit einer neuen Generation dedizierter Server ins Jahr 2019 gestartet. Insbesondere Anwendern mit hohem Speicherbedarf ermöglichen die neuen "Filer v5" Server mit bis zu 80TB Speicherkapazität ein flexibles Wachstum ohne Investition in eigene Hardware.

Die "Filer v5" Serie beinhaltet 4 Server-Modelle basierend auf einem Supermicro Single-Socket Mainboard mit Intel XEON Prozessor und bis zu 64GB ECC Arbeitsspeicher, sowie Gigabit-Anbindung und Traffic-Flatrate.
Der "Filer v5 24T" mit 4x 6TB Festplatten ist die kleinste und günstigste Variante dieser Serie, gefolgt vom "Filer v5 40T" mit 4x 10TB Speicherkapazität. Bereits diese beiden Modelle sind geeignet für das Hosting von Audio- und Videodateien oder für Backups Eurer NAS-Boxen. Wer auf viel Performance bei I/O-intensiven Anwendungen benötigt, ist mit dem "Filer v5 8T-SSD" gut beraten. Der "Filer v5 80T" bietet mit 8 verbauten 10TB Festplatten die größte Speicherkapazität und komplettiert die renovierte Server-Serie. Die verbauten HotSwap-fähigen Festplatten sind 24×7 zertifiziert und arbeiten im RAID-Verbund, so dass beim möglichen Ausfall einer einzelnen Platte die Datenverfügbarkeit ohne Downtime gewährleistet werden kann.
Um die Festplatten optimal zu nutzen, verfügen alle "Filer v5" Server über einen externen 32GB USB-Speicherstick, der für eine eigene Installation des Betriebssystems eingesetzt werden kann. Zudem gobt es weitere 100GB Speicher als FTP-Backup. Für noch mehr Flexibilität oder zum Aufbau eines eigenen Storage-Netzwerkes können über die Pro-Option zusätzlich verfügbare Dienste wie Failover-IP, VLAN oder eigene IP-Netze optional hinzugefügt werden. Bei Bedarf sind alle "Filer"-Server auch VMware oder XEN-Server kompatibel. Die Bereitstellung der Servers erfolgt im eigenen Datacenter von EUserv im Herzen Thüringens.
Ihr möchtet mehr über die "Filer v5" Server erfahren?
Dann klickt Euch rein: http://go.euserv.org/NC
16.12.2014 | von katjaateuserv

—
Content:
1) Server News #1: Launch of the new server series "Instant64"
2) Server News #2: FreeBSD 9.3 available for dedicated servers
3) Special offers + Promotions: Black Friday offer extended –
1.000 GB online storage "BackupHD 1000" for only 7.95 EUR/month
4) Support News: Limited support on Friday, 19th of December 2014
—
1) Server News #1: Launch of the new server series "Instant64"
EUserv has expanded its servers to a new server series with 3 models. The "Instant64" server series provides a combination of fast processors, lots of RAM and fast SSD's respectively large hard drives in the 4th generation at a great price/performance ratio.
The server in this series are ideal for web projects, starting with simple blog creations up to a medium-sized single-host web application or website. Even smaller virtualization projects can thus be easily implemented.
Features of the series:
· fast Intel XEON processors and large RAM (32 GB RAM)
· great price/performance ratio
· reliable network connection Cisco Layer 2 and Layer 3 – Switches
· 1Gbit connection with 200Mbit bandwidth
· unmetered Traffic without forced throttling
The following models are included in the server series:
· Instant64 M
· Instant64 L
· Instant64 SSD
For more information and pricing please visit:
http://www.euserv.com/de/dedizierte-server/instant64-rootserver/v4/
2) Server News #2: FreeBSD 9.3 available for dedicated servers
The current FreeBSD 9.3 is now available for dedicated servers and can be installed via the EUserv customer panel. FreeBSD 9.3 is provided with updates for a total of two years.
As in the previous version, further improvements have been implemented for ZFS. Thus, for example, snapshots can be managed more efficiently by using "bookmarks". In addition, ext4 file systems can now be accessed by reading.
On the hardware side, particular improvements in the network drivers for Intel and Realtek can be mentioned. Among the available software updates, BIND (9.9.5), OpenSSH (6.6p1) and OpenSSL (0.9.8za) are included. In addition, the Xen integration was continued.
The random generators from Intel and VIA are no longer part of the release. For now, the use of "Yarrow" or "Fortuna" is recommended.
More features:
· ZFS supports the "bookmark" feature
· Read-Only-Support for ext4
· Xen Hardware-Assisted Virtualization-available as a module
· Driver updates for Intel and Realtek NICs
3) Special offers + Promotions: Black Friday offer extended – 1.000 GB online storage "BackupHD 1000" for only 7.95 EUR/month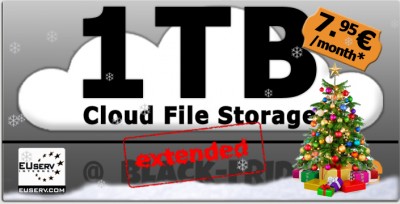 Because of the great demand, we extend our Black Friday Steal Deal until the end of the year. For all new and existing customers we offer the 1.000 GB online storage "Backup HD 1000" for only 7.95 EUR/month instead of the regular price of 18.95 EUR/month.
Save your data, pictures or music secure and have them always available. The access to the online storage is encrypted by using Rsync, Web, or WebDAV. You can create as many data uploads and downloads. Traffic restrictions do not exist.
Your benefits:
· 1.000 GB online storage
· secure access via Rsync, Web or WebDAV
· storage in own 100% german Data Center in Jena /Thuringia
· any number of upload and download files
· no traffic restrictions
· support of all current backup software
· upgrade memory size without losing data
· contract term of either 3 or 12 months
· no setup fees
· reduced monthly fees for the entire contract term
Link to the Black Friday offer:
http://blackfriday2014.euserv.de/
4) Support News: Limited support on Friday, 19th of December 2014
On Friday, 19th of December 2014 our phone support is not available from 12 p.m. until 5 p.m. because of an internal training. Support requests will be handled via the support system in our customer panel.
Customers with optional booked support SLAs are not affected by the limited phone support.
04.10.2013 | von Robby

Due to the End-of-Life status of Plesk 9.x and the release of Plesk 11.5
we are now providing installation images for Debian 7.1, openSUSE 12.3 and CentOS 6.4.
All of these images include a default installation of Plesk 11.5 and can be installed "out of the box" from the customer center. Additionally there is a software raid1 version available for each system.
Coming with critical security fixes against malware exploits in the first place, Plesk 11.5 is providing the following features:
– Support has been officially announced for Debian 7
– Additional administrator accounts can be created; until now this feature was exclusive to Windows versions of Plesk only
– Multiple versions of PHP can be installed and used on a single server. This affects resellers mainly: Different PHP versions can be assigned to and selected by specific customer roles
– Specific Apache configuration values (regarding MIME types, handlers, access restrictions and index files) can be set for certain websites by the customer. A similar function is available when using the Nginx web server.
– Static files and PHP can directly be delivered and processed via Nginx without redirecting them to Apache
– FTP webspace can be accessed via an SSL-secured connection
|